CHURCH LIGHTING
... And then there was light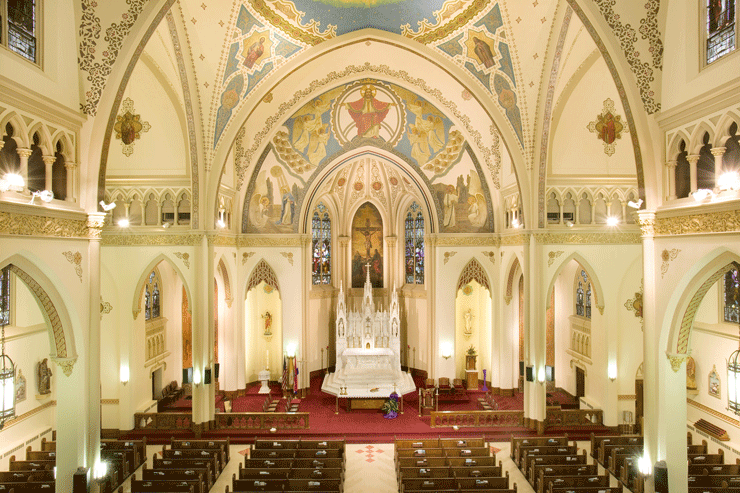 Sts. Cyril and Methodius Catholic Church / Photo: Emil Lansky
The effect of natural light pouring through a church or synagogue window and infiltrating the worship space can infuse it with a majestic vibrancy in a matter of seconds. The atmosphere that is created with lighting is critical to both the function and ambiance of a church. It is advantageous to be informed of the various lighting options that are now available, as a lighting design can truly enhance or take away from the worship experience.
Church lighting is a mixture of natural daylight and artificial lighting; daylight alone does not provide sufficient lighting for the ideal worship environment. Direct light is implemented for functional purposes; it is typically positioned above the seating area for clearer visibility and reading purposes. Conversely, indirect light reflects from another surface and gently spills over the entire space.
Light can also be used to communicate the desired mood for a space. It can be applied to uplift a congregation, by using bright effervescent beams, set somber tones by installing strategic dims, or even manipulate our perception of the size of a given space.
Accent lighting can be used as a tool to highlight or draw attention to significant liturgical artifacts and areas. Although all of the aforementioned lighting techniques are essential in a place of worship, the formula or combination of direct light, indirect light, and accent light is unique to every church.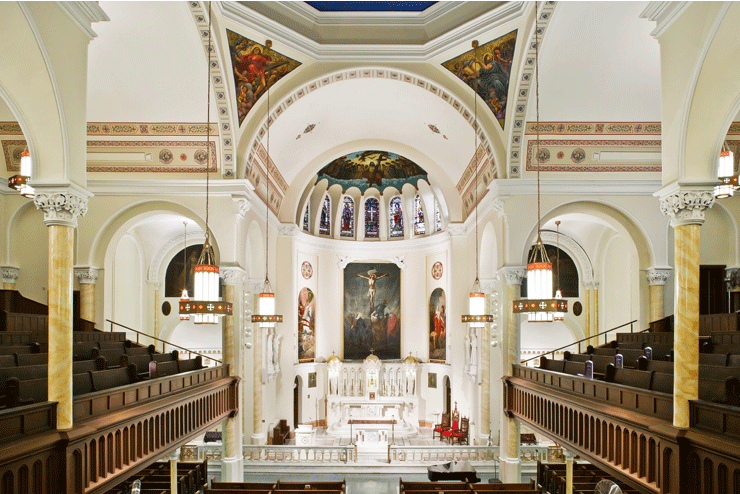 Holy Cross Roman Catholic Church / Photo: Emil Lansky
SHEDDING LIGHT ON THE SUBJECT
The reasons behind a worship community's desire to update their existing lighting system can be numerous: increased light levels for the aging population, reduced energy consumption, improved color rendition, need for better dimming controls, or replacement of deteriorated fixtures and wiring to decrease the risk of electrical fire. When it comes to lighting design for new and existing interiors, DCAK-MSA's mission is to focus on our client's well-being in the artificially illuminated environment.
Although incandescent lamps create a pleasant, warm light and are easily controlled, their large energy consumption and frequent replacement make them inefficient for upkeep. High Intensity Discharge lighting systems were used to reduce energy consumption, but they proved to have poor color rendition, were difficult to control, and even produce a humming sound. We generally advise against using HID lighting in church interiors, with the exception of ceramic metal halide for economical lighting from great distances or heights.
The sheer size and vastness of many older worship spaces combined with the increasing cost factor of continuing to light them with traditional incandescent lamps has increased popularity of fluorescent lighting, LED lighting, and ceramic metal halide lighting. Also, the changed requirements of building codes demand more efficient light sources. Each of the aforementioned lighting options offers respective advantages and disadvantages, so it is imperative to understand each type in order to make the most suitable choice for your space.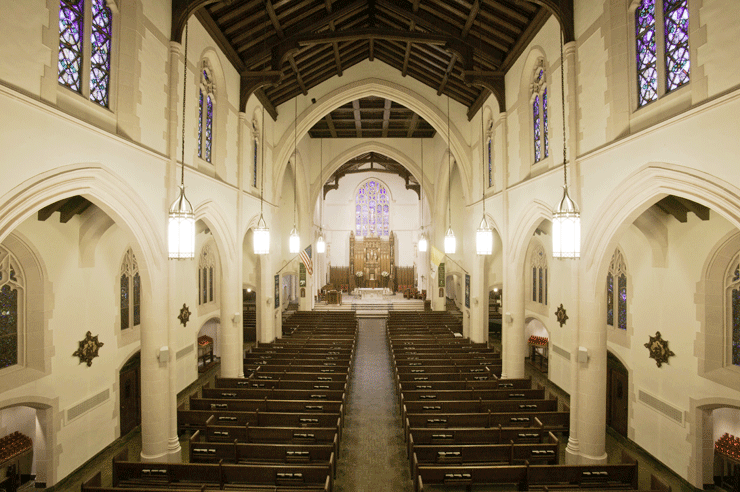 Church of the Resurrection / Photo: Emil Lansky
When comparing modern fluorescent lighting with existing incandescent lighting systems, it is important to note that today's fluorescent lamps are easily dimmable, and are available in the color of incandescent lamps. If you wish your fluorescent lighting to produce the effect of incandescent lamps, make sure to buy the lamps in the color rendition at 3,000 Kelvin. Fluorescent lamps are quite versatile as they are available in a variety of different shapes and sizes. Furthermore, fluorescent lighting proves to be a more economical choice as the lamps supply a longer life-span than incandescent lamps.
Ceramic metal halide lamps are advantageous because they have excellent color rendition, a long lamp life, and are extremely energy efficient. Long lamp life is beneficial for a place of worship because the high elevation of light fixtures in tall spaces can make maintenance very costly; with an average lamp life of 10,000 hours, ceramic metal halide lights are one of the most energy and cost efficient lighting choices. On the other hand, their shortcomings are that they have a delayed start and they are essentially not dimmable.
Another effective lighting option involves the use of LED lamps; the intensity, efficiency, and longevity of LED lighting gives it an advantage over compact fluorescent lighting, but it is more costly upfront. This newly introduced light source is welcomed by our designers with a healthy sense of caution. Although LED lighting is exceptionally efficient and long lasting, it is relatively new to the market so it continues to be tested.
A hallmark of DCAK-MSA Architecture and Engineering is the firm's ability to partake in a dialogue with a faith based community and acquire a clear understanding of the community's needs as they pertain to its worship space. DCAK-MSA architects and designers understand that churches or synagogues, and their accompanying populations, are unique. Lighting schemes are a combination of art and technology that are customized to suit the needs of each specific application.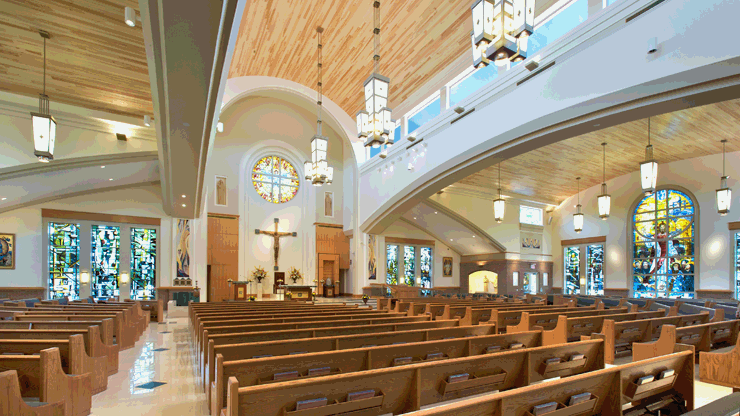 Our Lady Star of the Sea / Photo: Kevin Chu/KCJP
Recently, DCAK-MSA was approached by Holy Cross Roman Catholic Church located on 42nd St. in midtown Manhattan. The firm's designers created a new lighting scheme that replaced the existing system with a more economical florescent system to produce ambient light. The newly implemented accent lighting utilized LED bulbs to create a warm candle-like glow that highlights Stations of the Cross. A state of the art dimming system was also installed, making it possible to establish and save particular lighting scenarios predicated on the event, or time of day, to create an appropriate setting for worship.
Early last year, the installation of a new interior lighting program was completed for the Church of the Resurrection in Rye, New York by DCAK-MSA. The 1924 arts and crafts gothic work of Murphy & Lehmann was well into its second lighting scheme, one that was originally intended to improve energy efficiency with HID re-lamping. The project consisted of two stages, the church's Sanctuary and Nave. In the Sanctuary, outdated metal halide fixtures were replaced with ceramic metal halide fixtures, located at higher elevations to reduce discomfort for celebrants. These new ceramic metal halide lights were used to highlight specific liturgical appointments, such as the Crucifix, tabernacle, and the highly ornate carved wood re-redo. In the Nave of the church, DCAK-MSA created twelve new pendant lanterns, each illuminated by six, fifty-watt interior lamps and three, forty-two watt down lamps; in doing this, light levels were substantially increased throughout, and a delicate balance between the Sanctuary and Nave was achieved to accentuate the importance of the liturgy.
When designing new lighting systems at Sts. Cyril and Methodius Catholic Church, DCAK-MSA was challenged with implementing light fixtures with lower maintenance costs in high places, as well as efficiently illuminating the ceiling and accentuating the Sanctuary; to fulfill all of these needs, our team installed T6 ceramic metal halide lamps. Strategically placed T6 CMH lamps not only provided cost-effective and plentiful luminosity, but the completed work boasted a gorgeous warm glow that highlighted the church's intricate design and colors. In this way, when implementing new lighting systems, our architects and designers work to emphasize the existing beauty of each church.



If you would like more information feel free to contact
www.DCAK-MSA.com